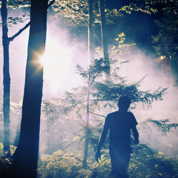 Belo, a interdisciplinary artist, developed a unique and complex technique, which gives his works a tridimensional and textured appearance inviting the onlooker to touch its surfaces. Evoking the web that his painting spins, he enhances his canvas with interlaced layers of nylon filaments. Then he composes his image by joining thousands of miniature pieces of acrylic paint to his canvas.
His creations evolve, changing in perspective, as we approach them; the frame seems to disappear letting the spectator in. "The whole is greater than the sum of its parts" takes on a new meaning when we are in front of a Belo painting.
From his wall canvases, Belo has adapted his artistic process to the production of larger-than-life images: ephemeral and monumental installations, that give a new deeper perspective to his work. Juggling with illusion and excess, he creates assemblages revealing images reminiscent of digital photography. Belo's current work renews the ephemeral art practice that he transposes in the urban environment and transcends into the virtual space.
His main inspirations come from nature, human and earthly; and from his life experiences, that he channels in an intuitive way. Rooted in his time Belo wishes, through his artistic practice, to raise awareness of environmental and social issues.
In 2010, Belo won the Grand Prize of the Jury at the Montreal International Art Festival (FIMA). His works have been seen in Montreal, Quebec, New York, Las Vegas, Spain and South Korea.